What did I do to customize my scope rail? Well, you can't tell from a distance but my rear sight is still mounted under the scope. I wanted to do this because if the scope fails, battery dies, or I just get board with the dot I can remove the scope in a few seconds and still be able to aim.

Below are the instructions if you want to do this yourself. The tools I used were a Dremel (cut-off wheel, grinding wheels, grinding bit and drill bit) black paint, sand paper and a gunsmith (drill and tap for mount). It is not necessary to remove the rear sight but it makes it a little easier.
Instructions

I started with a black Volquartsen Scope Rail because it was the only rail I could find that had a channel down the center low enough to see the front sight. When the rail came in I found that it covered the rear sight dovetail and the rail would have to be cut. If I cut straight down to the edge of the sight I would be removing a quarter of the rail and I was worried that I would not like the balance with the scope and with it that short could not move it back far enough.
When cutting or drilling always do it perpendicular to the rail, the pictures make it look like it is at a slight angle but it is not.

1. I started by cutting the last section of the rail off with a cut off wheel.

2. With the drill bit, drill a hole straight through the side (black line is the center of the drill) and the top (white line is the center). The drill bit should not be bigger than the flat part on the side of the rail.
3. With the cutting wheel cut 2 lines from the edge of the rail to the edges of the hole on the top. When the center piece is out use the grinding bit to make the hole as wide as the center of your rear sight.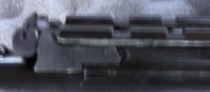 4. Do the same as you did in 3 to both sides, be sure to be perpendicular to the middle of the side, not at the angle of the top and bottom of the rail.
5. Cut the bottom of the rail that is sticking out in half.
6. Fit the rail to the gun. It will probably not slide on all the way the first time, use the grinding wheel and sand paper to gradually widen any part of the rail that is too narrow to let the sight fit.
7. Sand down any sharp edges and clean the rail.
8. Paint the rail.
9. Take your gun to a good gunsmith and have him attach the rail. It cost me $10 per hole ($30 total) to drill and tap it.