Assembly of the Bolt
1. Insert Extractor Plunger and Spring with the longest end facing out (Fig. 5).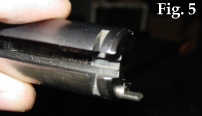 2. Push the Extractor down on the Plunger until the tip of the Extractor touches the bolt face (Fig. 6 red arrow), then push the Extractor in to lock it into place (Fig. 6 blue arrow).


3. Install Rebound Spring and Support, bent end down (Fig. 7 blue circle).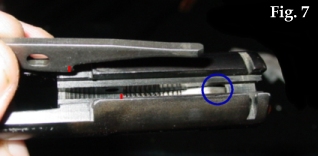 4. Install the Firing Pin so that the end of the Rebound Spring is touching the part sticking out below the Firing Pin (Fig. 7 red lines).
5. Install the Firing Pin Stop by pushing forward on the Firing Pin to line up the holes.
6. Install the Recoil Spring Assembly with the curved end matching the curve of the bolt.
7. Reassemble the gun.