Assembly of Trigger and Bolt stop
1. Insert the Bolt stop assembly by lining up the finger button with the hole, have the other end sticking out of the trigger guard. (Fig. 4)
2. Rotate the bolt stop assembly clockwise and let the end of the assembly rest inside the grip, there is a small groove it sits in.
3. Insert the spring and plunger into the vertical hole on top of the trigger.
4. Insert the round end of the of the disconnector assembly into the top horizontal hole on the trigger and rotate the trigger so the plunger is being held in by the bar sticking out of the disconnector assembly. (Fig. 5 red circle)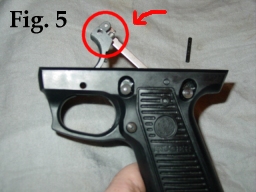 5. Rotate the trigger and disconnector assembly counter clockwise and into the trigger guard. (Fig. 5 red arrow) If the bolt stop is not resting in the grip or is still sticking out of the guard, the trigger will not go in all the way.
6. Insert trigger pin. The notch in the pin should be on the opposite side of the bolt stop assembly. (Fig. 6 red arrow) Some wiggling of the trigger is usually needed to get the pin properly aligned.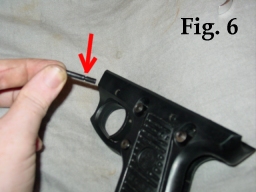 7. The pin will go most of the way in except a little bit (Fig. 7 red circle). You need to push down on the Trigger Pivot retainer, like you did in the disassembly step 4, and push the pin until it is flush with the frame.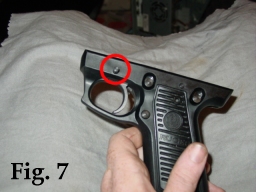 8. Using the back of a small drill bit (without holding down the trigger pivot retainer) push the pin farther into the grip until a "click" is heard. This means the pin is locked in by the retainer and should not vibrate out.
9. Assemble the gun as normal.