Assembly of Magazine Release
1. Insert the magazine release into the grip. Align the half circle into the hole.
2. Press and hold the release.
3. Insert the end of the retainer into the small hole (blue circle).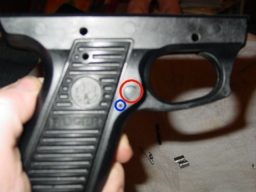 4. Rotate retainer around so that it will lay in between to small walls inside the frame. If it will not lay down all the way you need to adjust pressure on the release button.
5. Once it is held in by the grip you can release the button.
6. Install the Sear. (Instructions)
7. Install hammer. (Instructions)
8. Install Trigger. (Instructions)
9. Assemble gun as normal.