Assembly of the Magazine
1. Take the Magazine Spring and place the Follower on one end and the Block Retainer Plunger on the other (Fig. 3 red arrows).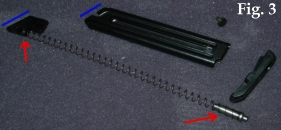 2. Insert the Follower into the bottom of the Magazine Body with the slope of the Follower the same as the slope of the top of the Magazine Body (Fig. 3 blue lines)
3. Line the hole in the Follower up to the wide part of the channel in the Magazine Body and insert the Follower Button (Fig. 4).
NOTE: if you put the Follower Button in on the wrong side it will not stop the gun from working but it will no longer hold the bolt open when the magazine is empty.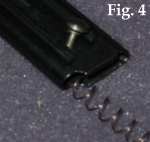 4. Slide the Follower Button all the way to the top of the magazine (Fig. 5).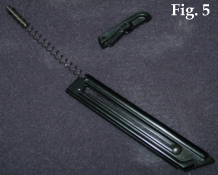 5. Push the Block Retainer Plunger and exposed Spring inside the magazine and hold it.
6. Slide the Block back onto the bottom of the magazine. A "click" should be heard as the Block Retainer Plunger seats itself into the Block when it is slid inplace.